Director's Statement
A little over four years ago, I returned to the shores of Lake Superior, on the northern tip of Michigan's Upper Peninsula, to explore the idea of making a film about the place I come from. Frustrated with how small-town America was often portrayed in the mainstream media, I wanted to tell a story about my rural hometown that countered those stereotypes. With no clear idea of what my story would be, I began to peruse the local newspaper (the Daily Mining Gazette) and read about the local National Guard unit. I didn't even realize that a National Guard unit existed up there, so I went to one of their monthly trainings to check it out, and that's where I met Dominic. As he stood with his buddies, Dom told me he joined the National Guard after graduating from high school. Pointing to the group of teenaged boys around him, he said, "These are my friends and we all joined more or less together."
It was then that I knew I might have a story. In the first weeks I was filming, a narrative began to emerge about small-town childhood friends who were making those decisions and taking those steps all of us make when we're trying to change our situation and figure out how to make the leap to adulthood. Focusing on this crucial moment in a kid's life, and opening a window to the place and people they're from, have always been more important to me than telling a story about war.
I spent nearly two years filming them as regular 19- and 20-year-olds before they became active duty soldiers serving in Afghanistan. I also spent a lot of time with their families, friends and girlfriends. My goal was to get to know them as people rather than soldiers, and by knowing them and their families and town before they leave, we see how they all change over these four years.
When the boys did go to war, I went with them. I also returned to Michigan several times during their deployment to show the effect of their absence on those left behind. And I was with them when they returned from war, filming their first year adjusting back to civilian life. Eventually, my film becomes a story about the war at home, how it affects families, loved ones and communities here, and how the war continues at home when these young men return from a year in combat. But at its heart it is still a film about growing up.
In any film where going to war is a major plot point, it would be easy to make a political statement. But in Where Soldiers Come From, and my other film projects as well, I am more interested in focusing on the emotional and human aspects of the story, as well as recognizing their complexities. Many Americans, whatever their politics or feelings about war, are very far removed from the Iraq/Afghanistan wars because they don't know anyone personally who has gone there as a soldier. I hope that my film will help viewers get to know these young men and their families, feel compassion for them, and see a bit of themselves in the people on the screen.
I know that a documentary is never completely the truth. It is always told through the filter of the director and the production/editing process. But what I strive for is to capture moments that are true, and to tell the story sincerely. In doing this, I hope that audiences will question a previously held belief, or change their perspective, or discover a truth about themselves. Ultimately I hope viewers connect with and learn from the people on the screen, even if these people are very different from themselves or their own experience.
As for my own journey back home, I am grateful to have had the opportunity to get to know the place I come from all over again, and to appreciate its beauty, complexity, and people in a way I never did as a child growing up there. Mostly, I am thankful to have met and gotten to know all of the people in my film. Their openness, courage, and love for each other continue to inspire me.
– Heather Courtney, March 2011
About the Filmmaker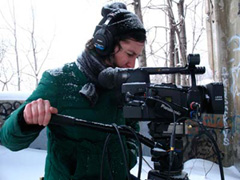 Heather is an Emmy-winning documentary filmmaker based in Austin, Texas and Washington, DC. Her most recent film, WHERE SOLDIERS COME FROM, won a 2012 News and Documentary Emmy, as well as the Independent Spirit Truer Than Fiction Award in 2012. In addition to these accolades, WHERE SOLDIERS COME FROM has won awards at festivals around the country, including a Jury Award for Editing at the SXSW Film Festival, Best Documentary Feature at the Philadelphia Film Festival, and the Founders Award for Best U.S. Documentary at Michael Moore's Traverse City Film Festival. The film received rave reviews in The New York Times, The Washington Post and others during its theatrical release in Fall 2011, and was broadcast nationally on the PBS program POV. It made several Top 10 lists, including Salon, which ranked it as #3 for best non-fiction television of 2011.
The film was supported by many grants and fellowships during its production including ITVS, the Sundance Documentary Fund, and the United States Artists Fellowship. Heather was also a fellow at the Sundance Edit and Story Lab.
Prior to WHERE SOLDIERS COME FROM, Heather Courtney directed and produced several documentary films including award-winners LETTERS FROM THE OTHER SIDE (which was supported by a Fulbright) and LOS TRABAJADORES (IDA award for best student documentary), and was a co-director on Roger Weisberg's POV-aired documentary CRITICAL CONDITION. LETTERS FROM THE OTHER SIDE was the Closing Night film at the Slamdance Film Festival in January 2006, and was broadcast on over 60 PBS stations. LOS TRABAJADORES won the Audience Award at SXSW and was broadcast nationally on the PBS series Independent Lens.
Prior to receiving her MFA in Film Production, Heather spent eight years writing and photographing for the United Nations and several refugee and immigrant rights organizations, including in the Rwandan refugee camps after the 1994 Rwandan genocide. Heather is from the beautiful Upper Peninsula of Michigan, and is proud to call herself a Yooper.
Producer/Director
Heather Courtney
[email protected]
Credits
Director: Heather Courtney
Producer: Heather Courtney, Megan Gilbride (Co-Producer), David Hartstein (Co-Producer)
Cinematographer: Heather Courtney, Justin Hennard
Editor: Kyle Henry, Heather Courtney
Sound: Justin Hennard (location), Tom Hammond (re-recording/mixing)